Good evening Vista Family, I am overwhelmed by the number of family members coming to the feast on Friday! We are excited to share a day of gratitude with all of you. While we are looking really good on food supplies we could use a little help in the beverage department. If anyone is willing to help out with tea or water, please have your student let their advisor know tomorrow morning. We ask that all families enter through the front doors of Vista Nueva to be guided into the boys and girls club for dining! See you all Friday! Dreher

Big Brothers Big Sisters in San Juan County is looking for mentor volunteers. For more information please go to their website:
www.littlesneedbigs.org
.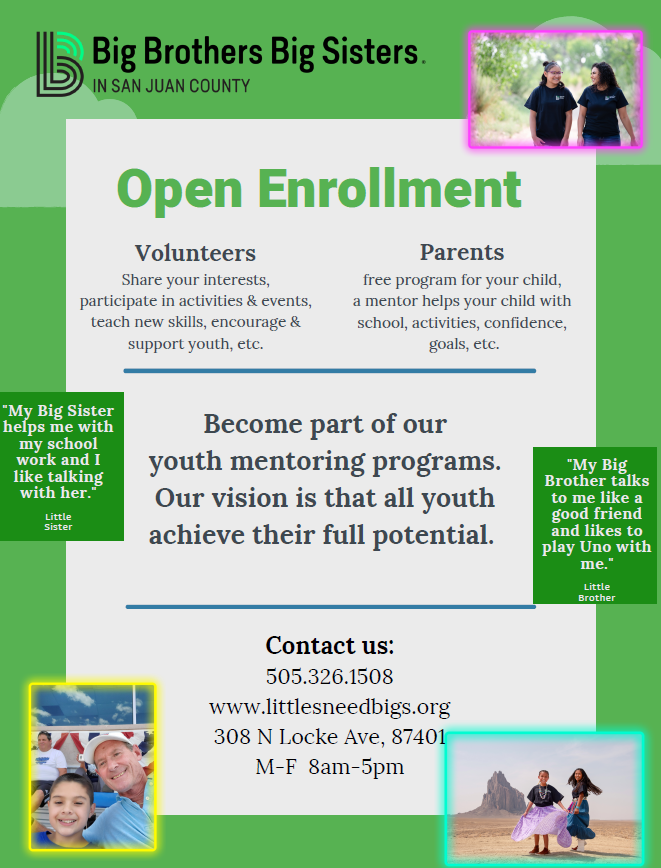 Good Afternoon Vista Family, Please click on the link below to RSVP for the Thanksgiving Feast which is happening next Friday, November 18th, at 11:00 am, at the Boys and Girls Club next door. If you do not plan on attending, please disregard this notification.
https://forms.gle/Los8J7WfGvarqnzC9
See you next week, Dreher

Good Afternoon Vista Family! Next Friday, November 18th, at 11:00 am, you are all invited by the Aztec Boys and Girls Club to join us for a Thanksgiving feast. This is the one time of year we like to bring the entire community together without an agenda. We just want to break bread and celebrate a day of gratitude before the holiday break. Over the next few days we will be communicating with students about the event and will be asking them to RSVP with the number of family members that will be attending. The main course will be Serious Texas smoked turkey. We hope to see you all there! Dreher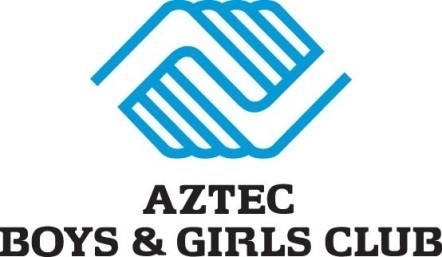 Aztec High School will be having an Open House to celebrate the opening of our new Project Bike Tech bike shop on Monday, November 7th from 5 pm to 7 pm in room 401. Come learn about this new curricular opportunity for students and the NMPED Outdoor Learning grant award which will fund an Aztec High School NICA MTB team this Spring!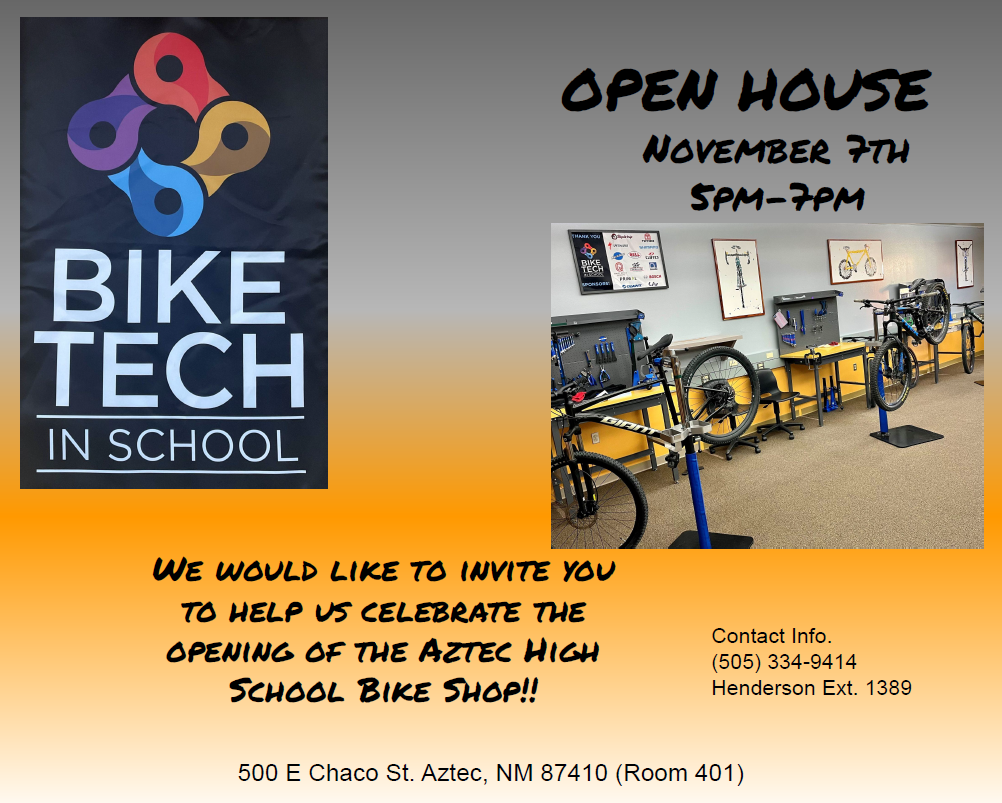 Good Afternoon Vista Family, We have been working all week on our homecoming float and are excited for the big reveal tomorrow. While the float looks great, we are still in need of candy supplies to throw out to all the children at the parade. If anyone is willing to help out with the candy supply, that would be amazing! Thank you for your support as always! Dreher

Good Afternoon Vista Family, Just a quick reminder that sophomore's will taking the PSAT 10 tomorrow morning and need to be at school at 8:00. All other students will have remote learning assignments. Some will be posted in google classroom and some have been given out today. All remote students will be sent home with a computer today. If you need to pickup your student's computer, please contact the front office. Dreher

Good Afternoon Vista Family, Next week is homecoming week in Aztec. We will be working on a float for the parade all week in creative lab and during student free periods and lunch etc. Any students participating in the parade are asked to bring a bag of candy to disperse at the parade. Staff and students will head over to AHS immediately following 5th hour next Friday. Additionally, we will be selling tickets to the homecoming dance on Monday and Tuesday with Mandy at the front desk. Lastly, we have our own version of spirit week. Students are encouraged to dress up each day to celebrate the week. Monday: Frat Boy Day, Tuesday: Dress to Impress, Wednesday: Jersey Day, Thursday: Throwback Thursday, Friday: Vista Spirit. Have a great weekend!

This week we would like send a BIG THANK YOU to our AMSD Custodial Team who keep our schools running smoothly, looking great, and always working to take care of both our students and staff. We appreciate all that you do for our Aztec Tiger Community!!!

Good Morning Vista Family, Next week, on Wednesday, October 12th, we will be administering the PSAT 10 test to our sophomores. 10th grade students need to be on campus at 8:00 AM. Testing will run through about 12:30 that day and then they will be dismissed. All other grade levels will have a remote learning day and will not be required to be in the building. Students will be able to take home their Chromebooks on Tuesday, October 11th so that they may complete the remote learning assignments. Please feel free to reach out with any questions or concerns. Dreher

Good Afternoon Vista Family, We are working on establishing our School Advisory Committee for the 22/23 school year and are asking for parent volunteers to join in this work. This group with have one formal meeting during each quarter of the school year and will be comprised of students, staff and parents. Our work will encompass everything from feedback and input on major school initiatives to basic fundraising and information awareness. If you are interested in joining us, please click on the link below.
https://forms.gle/61SdkJT1xh94hKFT8
Have a fantastic holiday weekend! Dreher

Good Afternoon Vista Family, For any of our students taking Drivers Ed at the high school, class begins tomorrow in rooms 403 and 407 at 7:00 AM. There is a transfer bus that will leave the high school at 7:50 to bring those students over to our campus. Good luck tomorrow! Dreher

God Morning Vista Family, On Monday, we would like to invite all of you to our open house. We will begin with a brief gathering in the atrium (front entrance area) at 5:30. From roughly 5:45-7:00, teachers will be in their classrooms to visit with parents. You are highly encouraged to start with your student's grade level advisor. Mrs. Rebekah Deane, our counselor, and I will be up front for the duration of the evening to answer questions about internships, our Parent Advisory Committee, volunteer opportunities, or anything else you may have questions about. We look forward to seeing you on Monday! Dreher

Good Evening, A few more pieces of information for the week. We will have activities outdoors every day this week. Water bottles and cooler clothing are encouraged. On Thursday we will be heading to Tico Time at 9:00 from the school and returning at 2:00pm. Students will be able to order a sack lunch for the day. Liability waivers went home with students today. Please make sure to return them by Wednesday if your student wishes to join our trip to Tico Time. Any student wishing to opt out will not have any consequences as this is a non-academic, community building event. As always, please feel free to reach out with any questions or concerns. Dreher

Good Afternoon Vista Family, Just a few important announcements before we kick things off tomorrow. Breakfast and lunch are free to all students this year. Students will need to sign up with their lunch order before 9:00 am at the front desk every day. On Thursday, we will be taking an all school field trip to Tico Time River Resort. Students will come home tomorrow with a liability waiver. If that waiver is not returned by the end of the school day on Wednesday, students will not be able to attend the field trip on Thursday. Lastly, we will be holding our open house on Monday, August 29th, from 5:30 pm to 7:00 pm on campus! Please feel free to reach out with any questions or concerns, Dreher

Good Afternoon Vista Family, We have received tons of questions over the last two weeks about what to expect this year at Vista Nueva High School. Here is your lengthy list of items that will hopefully answer a lot of questions. Supplies: Students do not have a supply list for VNHS. Some paper, pens, pencils and a few folders should do the trick. Start date: All students in all grade levels will begin at VNHS on Monday, August 15th, at 8:00 AM. For our new students, do not worry, we will be here to help you find your way to your first class of the day. "Harmony Week" - At VNHS we feel very strongly about the value of building our school community. What this means for students is that our first week of school is centered around this idea. Students will be participating in a variety of activities in small groups and as a whole school. On Monday, August 22nd, we will have our first "Internship Day". Regular academic classes will begin on Tuesday, August 23rd, at 8:00 AM Internship days: Internships or Work-Based Learning experiences are now a requirement for graduation from Vista Nueva High School. Current seniors will have the option to participate in the internship program. Current Juniors will be required to complete a minimum of one internship experience and a minimum of 120 hours of internship. The graduating classes of 2025 and beyond will be required to complete a minimum of two internship experiences and 240 total hours for graduation. Each 60 hour segment is equal to .5 credits toward high school graduation. In addition to the credit earned for their internship experiences, all students will be enrolled in a "Career Exploration" class on Mondays for the duration of their time here. More information on internships will be forthcoming in the following weeks. Schedules: Students will work with Mrs. Deane, our counselor, to finalize their schedules throughout the first week of school. Food Service: We have a new food vendor in Aztec and we are very excited to see some of the new offerings that will be available to our students. Breakfast and lunch will be available to all of our students for free this year. Breakfast will be served in the cafeteria from 7:30 - 9:00 am every day. Lunch will run from 12:20 - 1:00 pm Monday through Thursday and from 11:55 - 12:35 on Fridays. Off Campus Lunch: Juniors and Seniors are eligible for off campus lunch. Freshmen and sophomores will be required to stay on campus. Advisory Class: All students will begin their day with their grade-level advisory. Annamarie Duesnberry will be working with our Freshmen. Jonathan Dobbs and Tamera Klohn will be working with our Sophomores. Our new science teacher, Aubri Workman, will be taking over our Junior class, and Alicia McClung will be working with seniors this year. Advisory is an academic weight bearing course, we have a lot to do during this class period and students need to be prepared to participate in advisory every day. Dual Credit: Students in New Mexico are required to complete a dual credit course for graduation. Mrs. Deane will be meeting with juniors and seniors next week to discuss enrollment and course schedules. Open house: We will send out an announcement about open house later this week. Due to the number of new initiatives we are introducing this year, we would like a few weeks to get things running so that we will have as many answers to as many questions as possible. We are very excited for the future of this school and to get to know all of our new family. See you all very soon! Dreher


Welcome Vista Families! We have received many phone calls and messages about the upcoming school year with a lot of nervous excitement. I wanted to share a few important pieces of information. Registration this year will be online and the website will go live on Monday, August 1st. I will send out a message Monday morning with the link for registration. Any families that need assistance with registration are welcome to stop by the school Monday, Wednesday, or Friday of next week. All VNHS students will be attending school on Monday, August 15th. We have a very fun filled week planned for our first week back. If your student is new to VNHS, tell them not to worry as we will guide them where they need to go on the first morning. Please feel free to reach out with any questions or concerns! 505-599-4393 See you all very soon! Dreher