Good afternoon Vista Family, We have some homecoming asks from anyone that may be able to help. First of all, with our two newly anointed homecoming court students, we are looking for a volunteer and a cool vehicle for them to ride in for the parade. Typically students ride in convertible or cool old trucks. If you or someone you know may be able to help, please reach out to Layla at the front office. Secondly, we would love anyone's help with a candy supply for our students to throw from the float during the parade. This is a pretty cool year for homecoming festivities and we want to make sure our students get the full experience! Thank you for any ideas or support! Dreher


Good Afternoon Vista Family, Just a reminder, we will be here for open house from 5:30 to 7:00 and look forward to seeing as many of you as possible. All new students to Vista this year will need to bring their i9 paperwork, a photo ID, and either their social security card or birth certificate to complete their paperwork for the district. Thank you everyone! Dreher

Good Afternoon Vista Family! Just a reminder that we will be holding our open house next week, Tuesday, August 29th, from 5:30 to 7:00pm. Teachers will be in available in their rooms and we will be setup in the atrium to discuss internships, dual-credit college courses and any other post-secondary questions you may have. Have a great weekend and we will see you all next week! Dreher


Good Afternoon Vista Family, Tomorrow afternoon, after a morning of all school activity, our freshmen, sophomores and juniors will be taking the STAR reading and math assessments. All students need to bring their school computers if they have them. New students will be issued computers tomorrow morning. See everyone tomorrow! Dreher


Good evening Vista Family, Just a reminder, tickets are on sale for our very own dance which is happening next Saturday, May 13th at the Elks Lodge in Farmington. Tickets are $10 and only on sale until Wednesday. Each Vista student can bring up to two guests and guest forms are due to Kayla at the front desk by Wednesday morning. Guests from Aztec High School do not need to have a guest permission form. Have a great week everyone!

Good Afternoon Vista Family, Just wanted to remind everyone that all juniors will be taking the SAT assessment tomorrow morning beginning at 8:00. Snacks and lunch will be provided for them. Please remind students to have their chromebook and charger with them when they come to school. All other grade levels will be in remote learning tomorrow and will return to school on Thursday, April 12th for regularly scheduled classes. Good luck tomorrow! Dreher

Hello, On Wednesday April 12, all Juniors at AHS and VNHS will be taking the SAT assessment in-person at their respective campus. Freshmen, Sophomores, and Seniors will have a Remote Learning Day. All other students (PreK-8) will be at school for in-person learning as normal. Thank you, Aztec Schools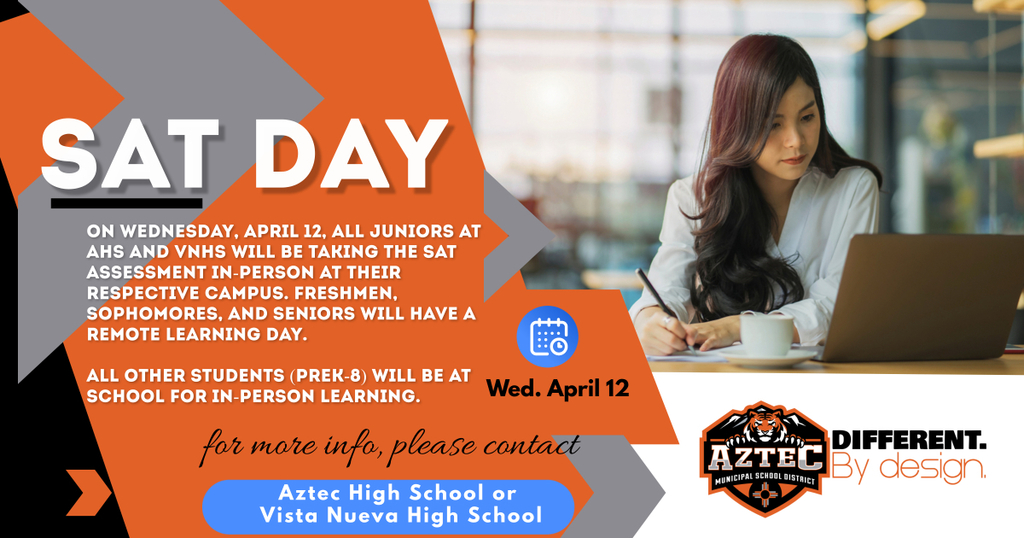 Good afternoon Vista Family, We have a few changes in our schedule tomorrow. The field trip for juniors to San Juan College has been postponed. Additionally, students will need to report to advisory tomorrow at 8:00 am rather than their first hour class. As always please feel free to reach out with any questions or concerns. Dreher

Good Afternoon Vista Family, In an effort to help our students get paid for their internships, we need your support. All students need to be able to provide their social security card or birth certificate, and a state or student ID. Students are being hired by and paid by the school district for these internships. Please have your student bring these items with them this week so that we can move forward with the process. Please reach out if you have any questions. Dreher

Hey Vista Family! My apologies, that last message was for Koogler families and I forgot to uncheck the Vista Contacts box. Current students do not need to do anything with applications! But, if you know of any upcoming 8th graders that you think should apply, let them know! Sorry about the confusion! Dreher

Good Morning and Happy Spring Break! Applications are now open for the 23/24 school year at Vista Nueva High School. We will begin family interviews after spring break and we only have 20 spots available. Click on the link below to fill out your application!
https://forms.gle/xtGKa1F1hE6eHcWx5
Dreher Robertson Principal, Vista Nueva High School

Good Afternoon Vista Family, We received a last minute invite to travel to Fort Lewis College tomorrow for an Environmental Science Summit. There are 15 students that have been invited to join. They will be headed out at 8:30 and will be joining other students from around the state to learn about issues impacting our region. We will be taking care of their lunch and they will return by about 2:30. This trip is not mandatory and any students with prior obligations are welcome to go about their normal school day. I am sorry for the late notice but it is a great opportunity for a group of students to do cool stuff! Dreher


Good Morning Vista Family, The multiple snow days over the last six weeks have put a serious strain on our timelines for finishing out the second trimester. We feel strongly that it is in the best interest of students and staff to shift our end date for this trimester to Friday, February 24th in order to finish out final projects, assignments and exams without penalty. If you have any questions or concerns, please feel free to reach out. Thank you for understanding. Dreher

Good Morning Vista Family, I wanted to send out a reminder that we will be in remote learning this Thursday and Friday. All students were introduced to their remote learning assignment this morning. This assignment is the first small step in building to a much larger Capstone project that students will be using as a demonstration of competency for graduation. Any students without internet access will be provided paper copies of the assignment and should have no problem completing this work by Monday morning. Please feel free to reach out with any questions or concerns. Dreher

Good Evening Vista Family, The staff and I have been presented with an amazing opportunity to join educators from around the state in ABQ for the Ed Uprising conference on February 9th and 10th. We will be leading work on graduate profiles, capstone courses, and work based learning opportunities. As a result, we will be going remote for those two days. Over the next two weeks, grade level cohorts will be discussing their projects that are directly tied to the work we will be doing in ABQ, our graduate profile and keys to success. Please feel free to reach out with any questions or concerns! Dreher P.S. The trimester ends on February 17th and progress reports were mailed home today.