Good afternoon Vista Family, We have a few changes in our schedule tomorrow. The field trip for juniors to San Juan College has been postponed. Additionally, students will need to report to advisory tomorrow at 8:00 am rather than their first hour class. As always please feel free to reach out with any questions or concerns. Dreher

Good Afternoon Vista Family, In an effort to help our students get paid for their internships, we need your support. All students need to be able to provide their social security card or birth certificate, and a state or student ID. Students are being hired by and paid by the school district for these internships. Please have your student bring these items with them this week so that we can move forward with the process. Please reach out if you have any questions. Dreher

Hey Vista Family! My apologies, that last message was for Koogler families and I forgot to uncheck the Vista Contacts box. Current students do not need to do anything with applications! But, if you know of any upcoming 8th graders that you think should apply, let them know! Sorry about the confusion! Dreher

Good Morning and Happy Spring Break! Applications are now open for the 23/24 school year at Vista Nueva High School. We will begin family interviews after spring break and we only have 20 spots available. Click on the link below to fill out your application!
https://forms.gle/xtGKa1F1hE6eHcWx5
Dreher Robertson Principal, Vista Nueva High School

Good Afternoon Vista Family, We received a last minute invite to travel to Fort Lewis College tomorrow for an Environmental Science Summit. There are 15 students that have been invited to join. They will be headed out at 8:30 and will be joining other students from around the state to learn about issues impacting our region. We will be taking care of their lunch and they will return by about 2:30. This trip is not mandatory and any students with prior obligations are welcome to go about their normal school day. I am sorry for the late notice but it is a great opportunity for a group of students to do cool stuff! Dreher


Good Morning Vista Family, The multiple snow days over the last six weeks have put a serious strain on our timelines for finishing out the second trimester. We feel strongly that it is in the best interest of students and staff to shift our end date for this trimester to Friday, February 24th in order to finish out final projects, assignments and exams without penalty. If you have any questions or concerns, please feel free to reach out. Thank you for understanding. Dreher

Good Morning Vista Family, I wanted to send out a reminder that we will be in remote learning this Thursday and Friday. All students were introduced to their remote learning assignment this morning. This assignment is the first small step in building to a much larger Capstone project that students will be using as a demonstration of competency for graduation. Any students without internet access will be provided paper copies of the assignment and should have no problem completing this work by Monday morning. Please feel free to reach out with any questions or concerns. Dreher

Good Evening Vista Family, The staff and I have been presented with an amazing opportunity to join educators from around the state in ABQ for the Ed Uprising conference on February 9th and 10th. We will be leading work on graduate profiles, capstone courses, and work based learning opportunities. As a result, we will be going remote for those two days. Over the next two weeks, grade level cohorts will be discussing their projects that are directly tied to the work we will be doing in ABQ, our graduate profile and keys to success. Please feel free to reach out with any questions or concerns! Dreher P.S. The trimester ends on February 17th and progress reports were mailed home today.

Good evening Vista Family, I am overwhelmed by the number of family members coming to the feast on Friday! We are excited to share a day of gratitude with all of you. While we are looking really good on food supplies we could use a little help in the beverage department. If anyone is willing to help out with tea or water, please have your student let their advisor know tomorrow morning. We ask that all families enter through the front doors of Vista Nueva to be guided into the boys and girls club for dining! See you all Friday! Dreher

Big Brothers Big Sisters in San Juan County is looking for mentor volunteers. For more information please go to their website:
www.littlesneedbigs.org
.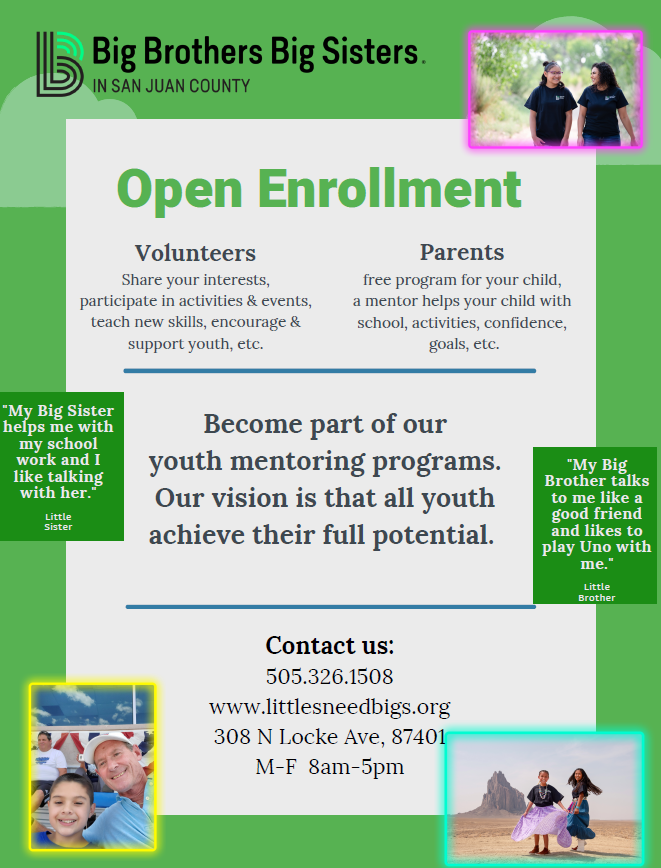 Good Afternoon Vista Family, Please click on the link below to RSVP for the Thanksgiving Feast which is happening next Friday, November 18th, at 11:00 am, at the Boys and Girls Club next door. If you do not plan on attending, please disregard this notification.
https://forms.gle/Los8J7WfGvarqnzC9
See you next week, Dreher

Good Afternoon Vista Family! Next Friday, November 18th, at 11:00 am, you are all invited by the Aztec Boys and Girls Club to join us for a Thanksgiving feast. This is the one time of year we like to bring the entire community together without an agenda. We just want to break bread and celebrate a day of gratitude before the holiday break. Over the next few days we will be communicating with students about the event and will be asking them to RSVP with the number of family members that will be attending. The main course will be Serious Texas smoked turkey. We hope to see you all there! Dreher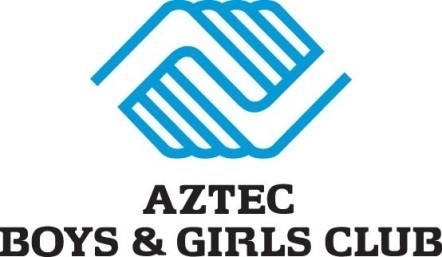 Aztec High School will be having an Open House to celebrate the opening of our new Project Bike Tech bike shop on Monday, November 7th from 5 pm to 7 pm in room 401. Come learn about this new curricular opportunity for students and the NMPED Outdoor Learning grant award which will fund an Aztec High School NICA MTB team this Spring!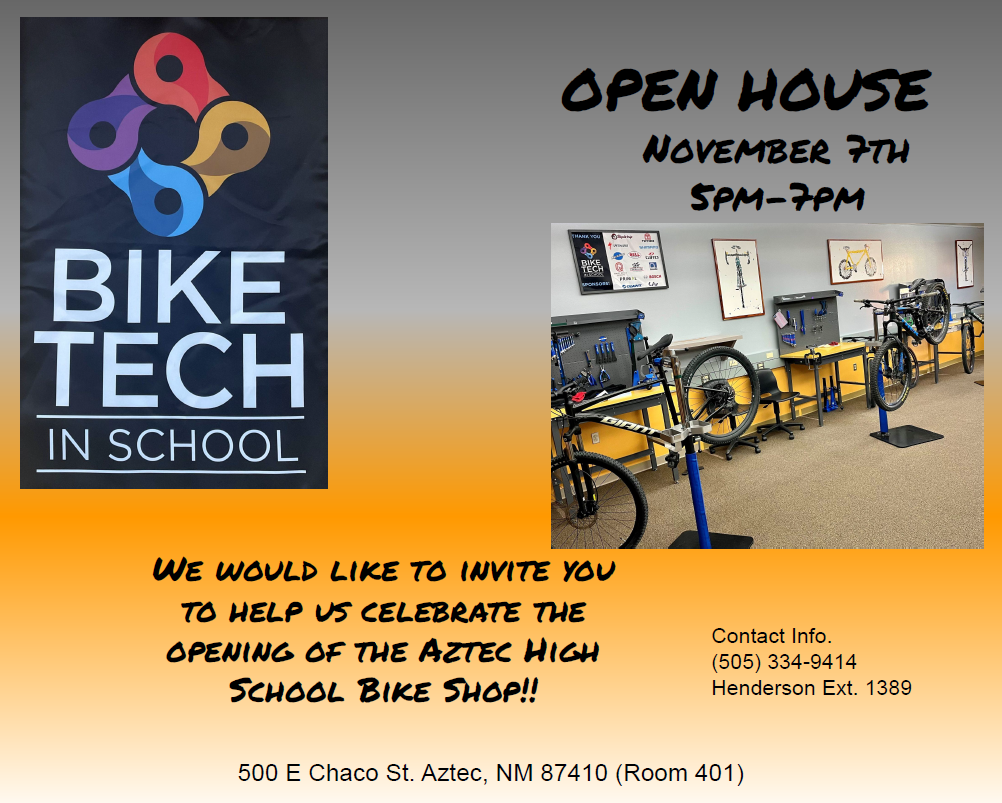 Good Afternoon Vista Family, We have been working all week on our homecoming float and are excited for the big reveal tomorrow. While the float looks great, we are still in need of candy supplies to throw out to all the children at the parade. If anyone is willing to help out with the candy supply, that would be amazing! Thank you for your support as always! Dreher

Good Afternoon Vista Family, Just a quick reminder that sophomore's will taking the PSAT 10 tomorrow morning and need to be at school at 8:00. All other students will have remote learning assignments. Some will be posted in google classroom and some have been given out today. All remote students will be sent home with a computer today. If you need to pickup your student's computer, please contact the front office. Dreher

Good Afternoon Vista Family, Next week is homecoming week in Aztec. We will be working on a float for the parade all week in creative lab and during student free periods and lunch etc. Any students participating in the parade are asked to bring a bag of candy to disperse at the parade. Staff and students will head over to AHS immediately following 5th hour next Friday. Additionally, we will be selling tickets to the homecoming dance on Monday and Tuesday with Mandy at the front desk. Lastly, we have our own version of spirit week. Students are encouraged to dress up each day to celebrate the week. Monday: Frat Boy Day, Tuesday: Dress to Impress, Wednesday: Jersey Day, Thursday: Throwback Thursday, Friday: Vista Spirit. Have a great weekend!